The History of Texas Hatters
Letter inducting Manny Gammage into the Accademia Nazionale Dei Sartori (the Italian national academy of tailors), for his craftsmanship in hat-making. 6 September 1984
Document from The State of Texas commisioning Manny Gammage as the Official Texas Hatter. 20 January 1990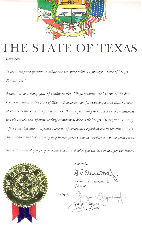 Letter signed by Gov. Wm. P. Clements, Jr. recognizing and commending the acheivements of Manny Gammage as a businessman and for his support of his community and state.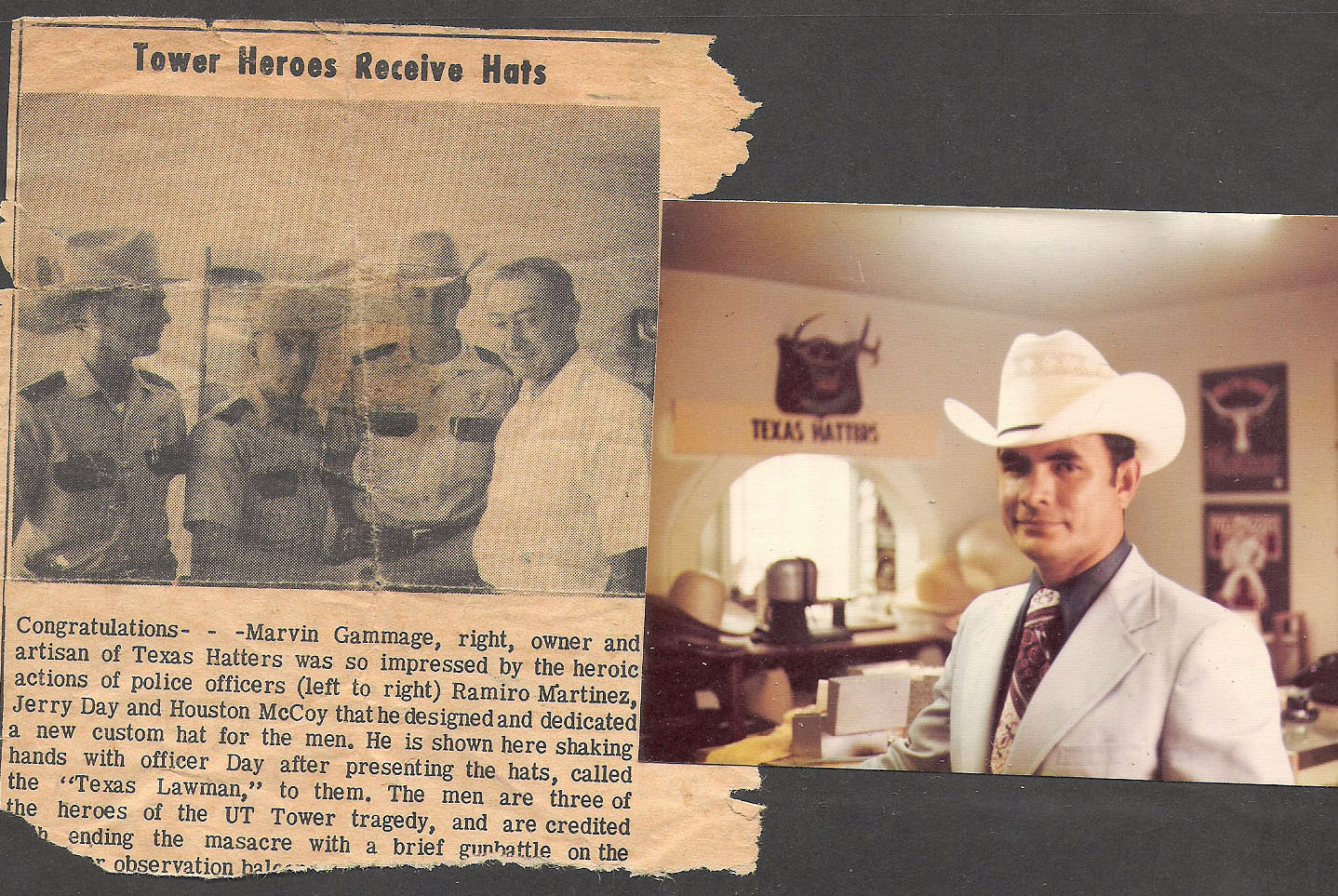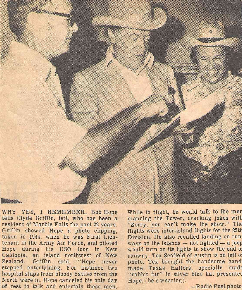 News clipping of Bob Hope receiving a custom made Texas Hatters' hat from friend and customer, Tex Scofield. No date was preserved in the excerpt, but Mr. Scofield's Lone Star Dude styled hemp hat indicates the 1970's.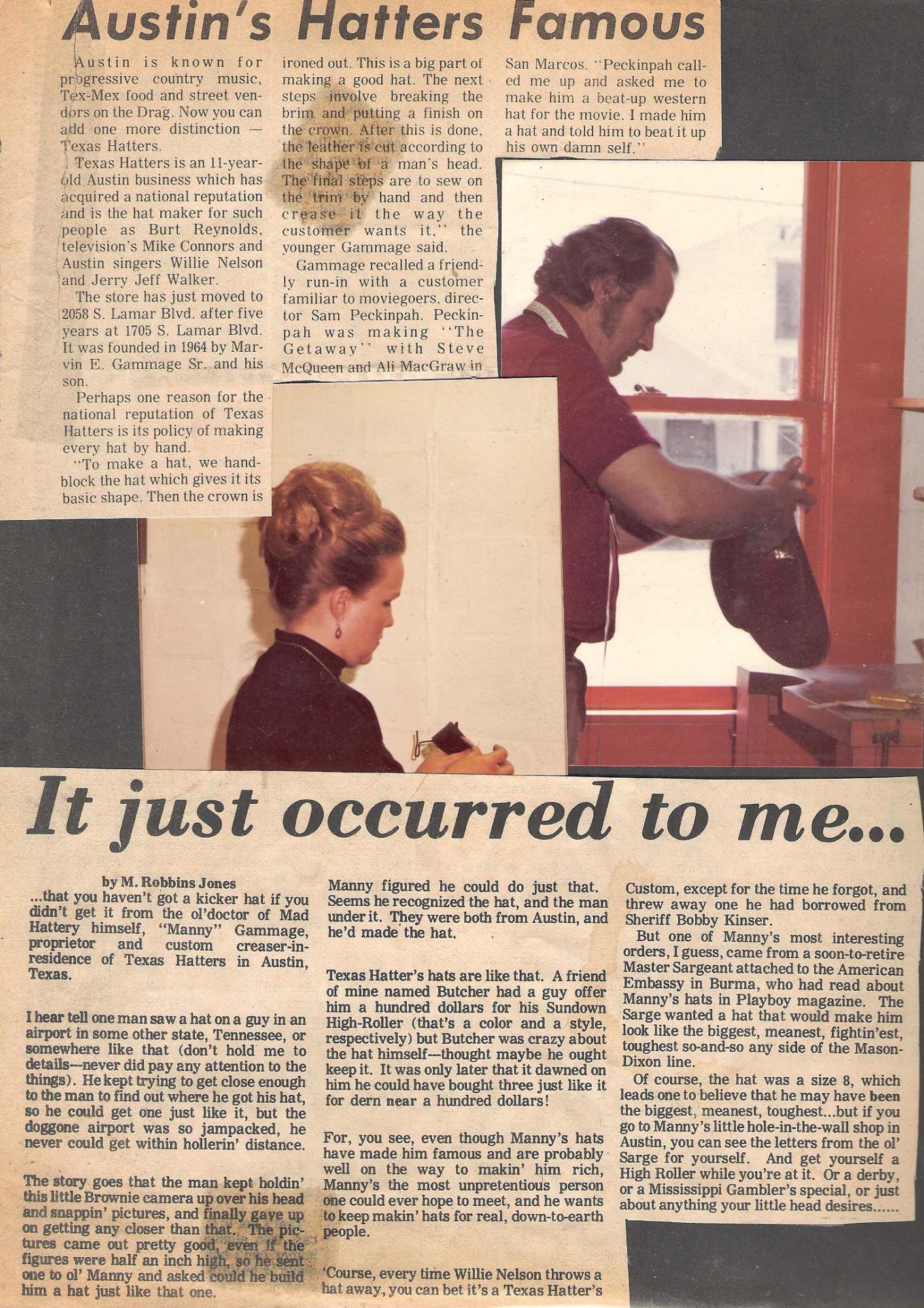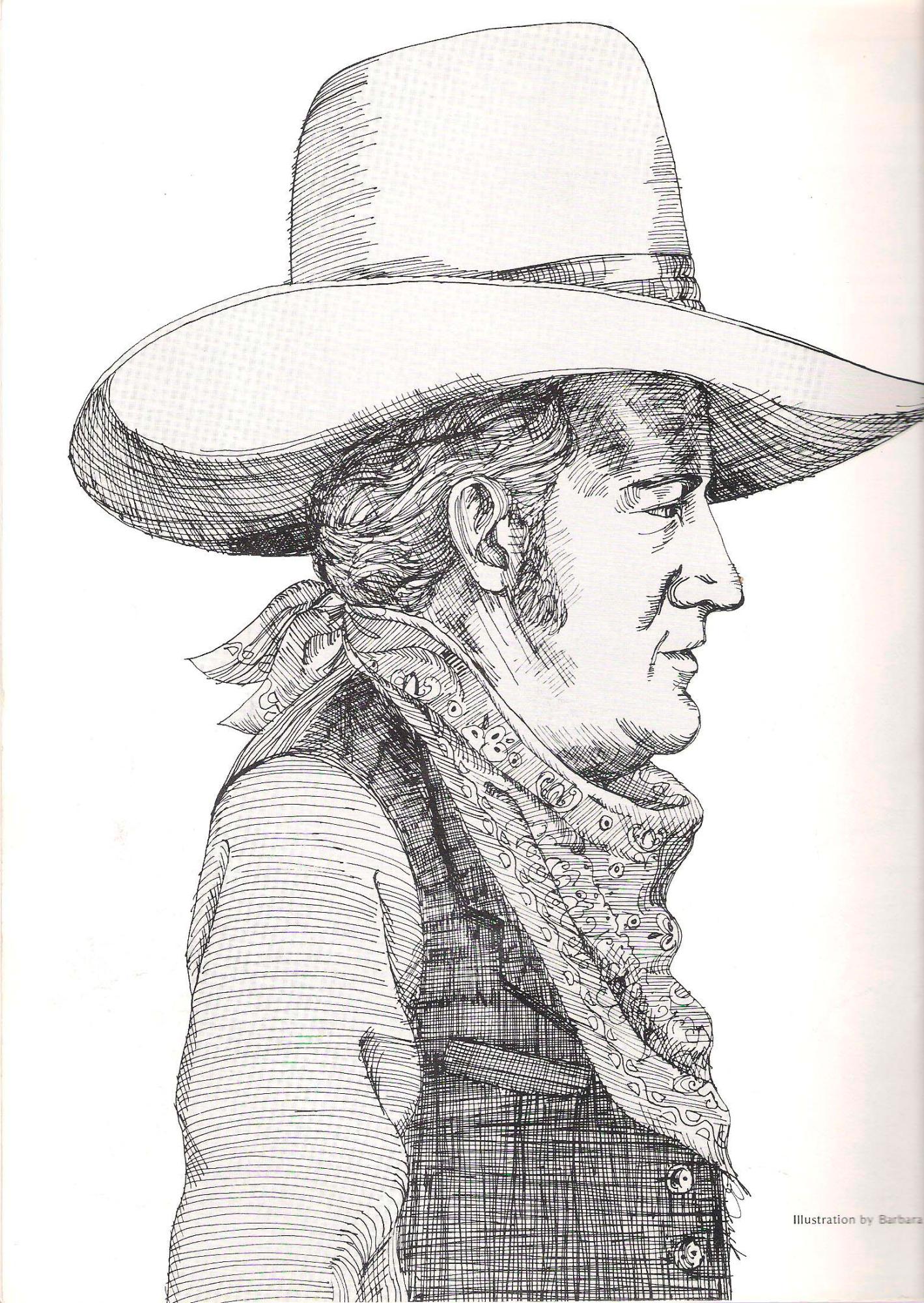 This illustration of a John-Wayne-looking Manny Gammage is from a two-page article in Austin Magazine's March 1974 issue. The article was written by Judi Stallings, but all that I have of the illustrator's name is Barbara. The author mentions Manny making a hat for Coach Darrell Royal to present to Kenneth Threadgill, "last October" at the Earl Scruggs Review, which had a hatband with the music to Threadgill's favorite song, "Mule Skinner Blues".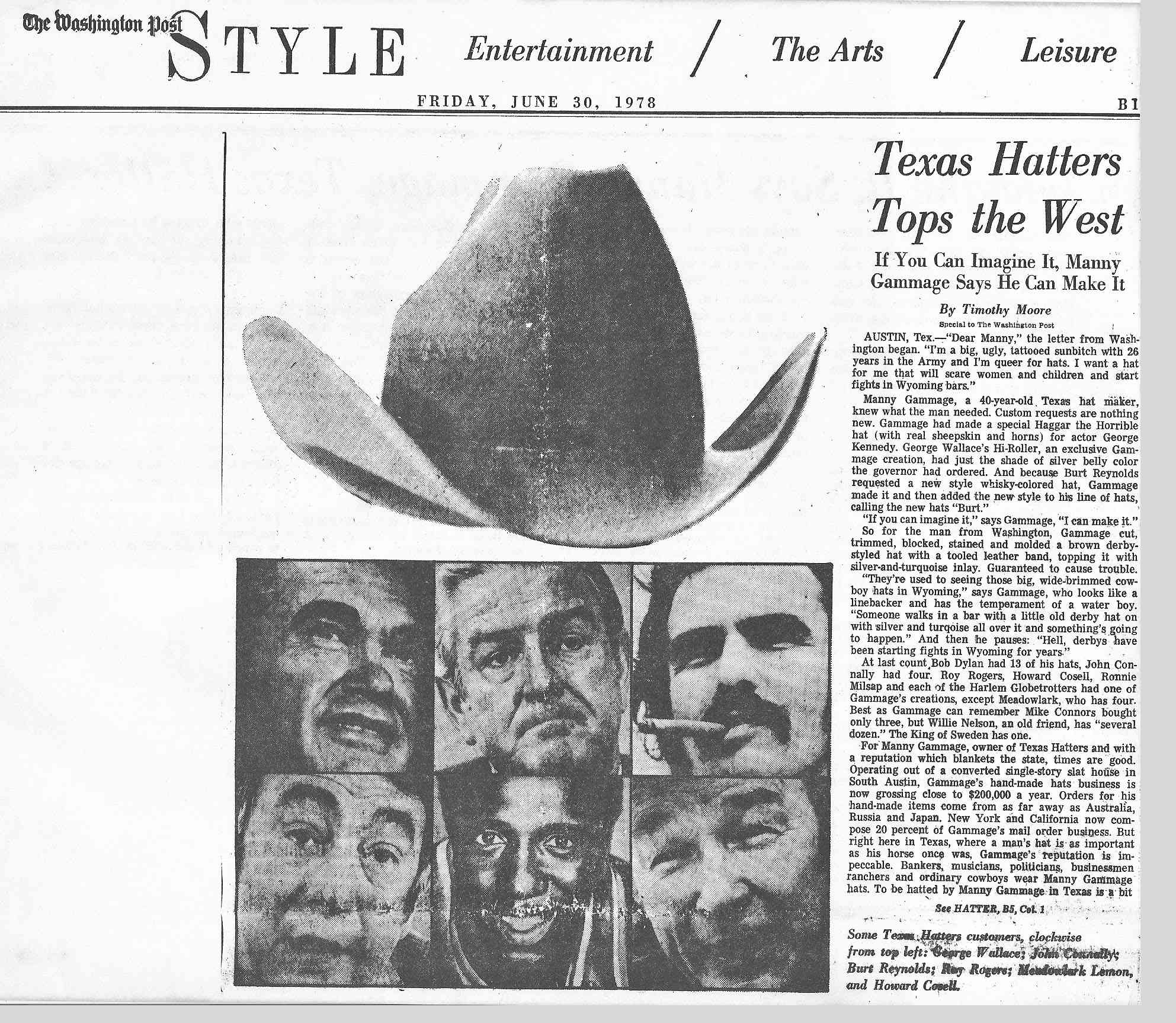 This article from the June 30, 1978 edition of The Washington Post, shows pictures of George Wallace, John Connolly, Burt Reynolds, Howard Cosell, Meadowlark Lemon, and Roy Rogers, and points out that they all have one thing in common - they all own at least one Texas Hatters' hat by Manny Gammage. The author, Timothy Moore, goes on to add; Bob Dylan, Mike Connors, Willie Nelson, the king of Sweden, and the rest of the 1978 Harlem Globetrotters.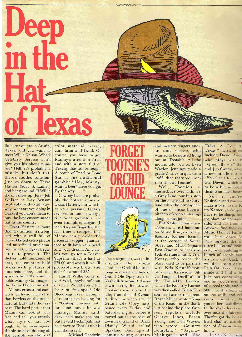 Undated article, from an unknown magazine, by Michael Goodwin. Mr. Goodwin mentions the Sam Peckinpah episode as having been a few months back, so the article and magazine must date somewhere between 1971 and 1972.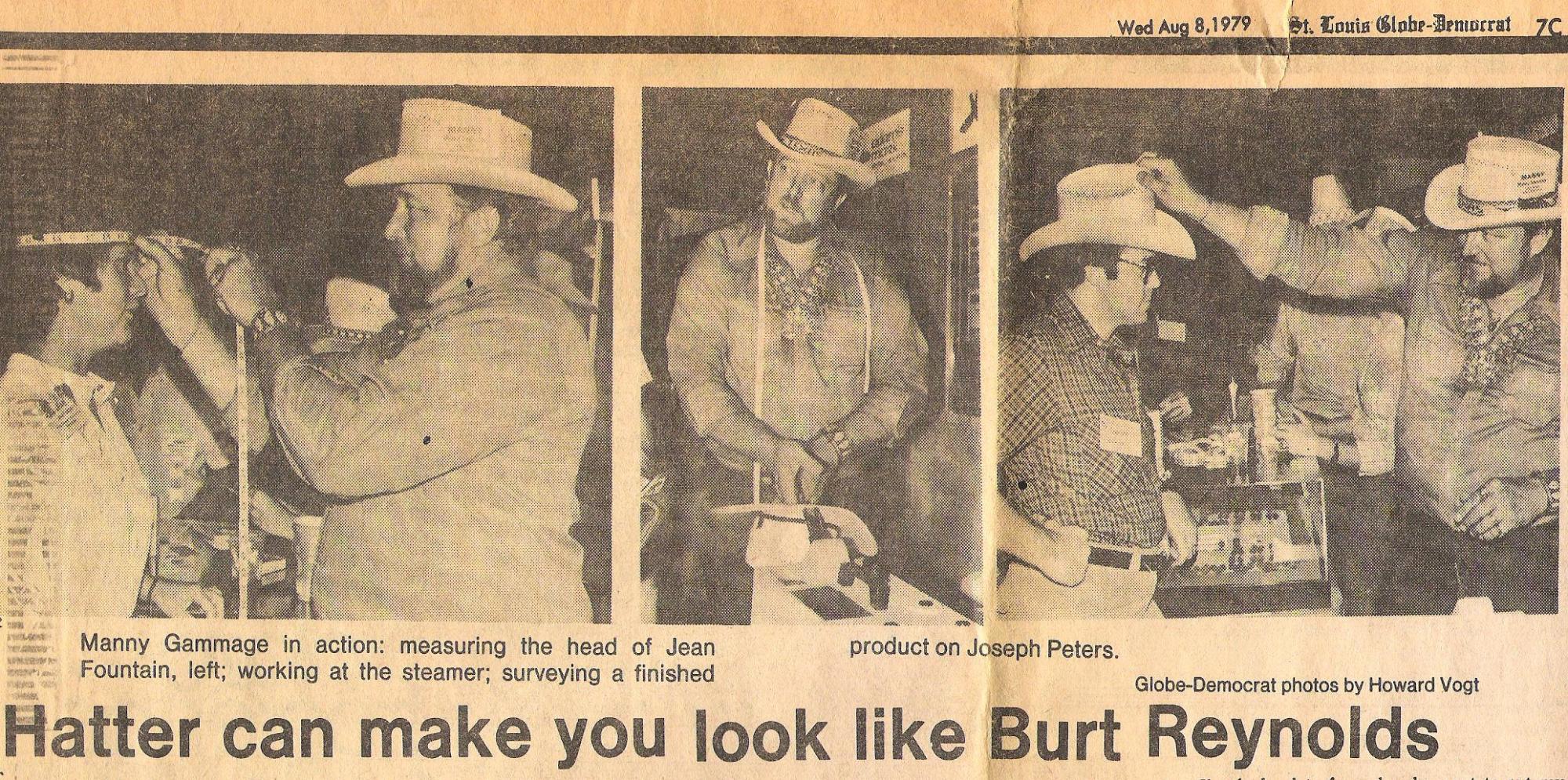 St. Louis Globe-Democrat, August 8, 1979
Left to right: Sen. Bob Gammage, Leonora Gammage, Manny Gammage, Marvin Gammage, Norma Gammage, and Sen. Peyton McKnight.
One of the proudest moments in Texas Hatters' history, April 23, 1975. The day that the Texas Senate adopted Senate Resolution 435, commending Marvin, Leonora, Manny, and Norma Gammage, for "dedication to excellence and the upholding of the highest Texas tradition in their craft, of making custom headwear..."
These news clippings are both un-dated, and the top one shows no author, but does reference the 1972 filming of "The Getaway", in San Marcos, Texas and the rather famous quote from Manny to Sam Peckinpah, regarding a hat he ordered for the movie, "Beat it up your own d*mn self". The bottom article is by M. Robbins Jones, who states "It just occurred to me...that you haven't got a kicker hat if you didn't get it from the ol' doctor of Mad Hattery himself, "Manny" Gammage, proprietor and custom creaser-in-residence at Texas Hatters, in Austin Texas."
One of two Burt Reynolds look-alikes who won a hat from Texas Hatters.
Click on the title for more content.
Click on the title for more content.
Somewhat weathered article, showing Marvin Gammage presenting custom hats to Ramiro Martinez, Jerry Day and Houston McCoy - the "Tower Heroes" - the three officers credited with ending the shootings from the clock tower at the University of Texas on August 1, 1966.
Manny prepares and delivers the second hat to Prince Charles during his 1986 visit to Texas for the state's 150th birthday.
British media gets the story slightly wrong, as they report that the second hat the prince put on was the "back up", when in fact, it was one of the two hats made for his sons, Princes William and Harry.
As the previous video shows, there was also one for Princess Diana.